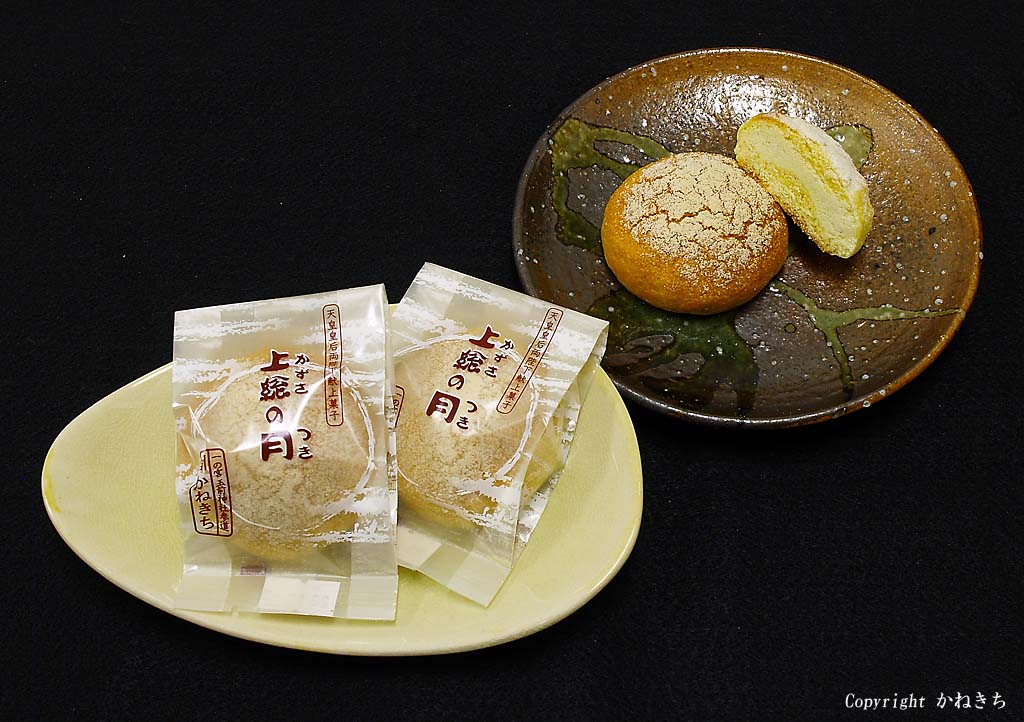 The sweet served to Their Majesties, the Emperor Emeritus and Empress Emerita of Japan.

This soft, mild-tasting baked sweet is made to resemble the KAZUSA MOON, which shines over the rough sea waters of Kujukuri. Kujukuri is the coastal region of the central part of Chiba Prefecture, also known as Kazusa. Chiba Prefecture is just in the east from Tokyo.
KANEKICHI, an Edo period established Japanese Sweets Confectionary Shop in Ichinomiya Taown, has carried on its traditions of 170 years through its historical and traditional Wagashi (Japanese sweets), such as the "KAZUSA MOON".
Ichinomiya Town is near Mobara City, Chosei Village and Shirako Town.Ichinomiya Town is also famous as a surfing venue for the Tokyo Olympics 2020

The KAZUSA MOON is covered in cracks. This expresses the moon appearing beneath the clouds through one of Japan's traditional expressions of Wabi and sabi, which are senses of beauty in Japan.

Furthermore, our Wagashi were designated as the Wagashi representative for our area by the Imperial Household, and we offered the KAZUSA MOON to the Imperial Emperor Emeritus and Empress Emerita.

Eating Instructions (How to enjoy to eat)
1. Enjoy the listen of the origin of this sweets and name.
Just hearing about the history of this local treat is fun. As the name implies, this item is shaped after the moon rising over the Kujukuri seashore. The name of the town comes from the shrine located in the town called Tamasaki. It is the number one ranked shrine in the Kazusa region. The main event of Tamasaki shrine is the "Tsukimi no En" which is a form of worshipping the moon. When the moon rises all the festival goers listen to the special worship music.

2. Enjoy the look of the sweets.
There is a slight powdering on the front of the treat which is made to look like clouds floating across the front of the moon.

3. Simply open the package and eat as it is or you may cut it into smaller pieces.

4. Enjoy the sweet taste and moist texture of Egg yolk paste melting quickly in your mouth.
KANEKICHI shop was established during the Edo period and has kept to the traditional method of making the KAZUSA MOON. It was chosen for a special offering to be given to the Emperor.

5. Enjoy the sweets with Japanese green tea. Japanese people drink hot Japanese green tea without sugar when eating Japanese sweets.
There is a traditional tea time in Japan at 10am and 3pm. And the tea is usually taken with sweets. The ten o'clock tea time has faded away but, some craftsmen and especially carpenters still do it at that hour in Japan.


In 2008, KAZUSA MOON was recognized as Chosei County's sweet of choice.
In 2010, KAZUSA MOON was chosen as the sweet of choice to be served to the Imperial household by the Japanese government.
On September 26, 2010, we had the privilege of serving this sweet to the Emperor Emeritus and Empress Emerita as they attended the Japan National Athletic Meeting, which was held in Chiba Prefecture.

KAZUSA MOON won the Monde Selection 2011-2019World Selections Award.
(2011-2013.2015-2019:Silver、2014:Bronze)
Chibano-Chikara Award for Small and Medium Sized Companies of Chiba Prefecture
Tabe-Log Best Sweets Prize 2013

Registered trademark 5423512